Personal care
Puracloth™
self foaming disposable wash cloth
REF 830
Puracloth™ is a soft foam cloth for full and partial body & hair cleansing and moisturizing. Puracloth™ is skin friendly, non-sensitizing and free of preservatives.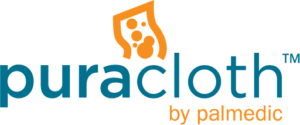 General information & advantages
• Neutral odour
• Time saving
• Efficient
• Cost effective
• A safe alternative to textile wash-mittens
Specifications
Application: Skin and hair
Packaging : re-closable bag with 30 cloths
Material cloth : Polyurethane
Ingredients: (INCI) Sodium cocoyl Isethionate, Panthenol, Parfum
Sales information
Puracloth™ REF 830 self foaming disposable wash cloth
Selling unit: 900 PCS in an export carton*
*a selling unit contains 30 bags with 30 pcs
Instructions for use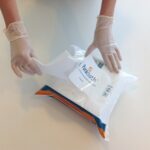 1: Open the packaging and remove a Puracloth™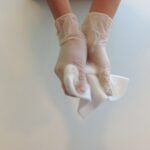 2: Moisten each individual Puracloth™ in warm or cold water. Squeeze the Puracloth™ gently to activate the foam.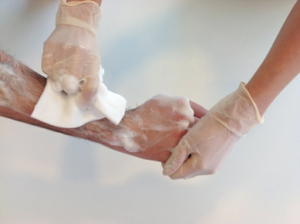 3: Wash only one area of the body to reduce the risk of cross contamination. Discard the Puracloth™ in an appropriate way and repeat with a new cloth. We advise you to use 6 to 8 cloths for a full body wash.
If feces is present, make sure to remove bulk prior to use.
Do not use additional cleansers.
Order